About Corinna
Corinna Chapman was born in Nimbin, a hippie colony in New South Wales, Australia*. She is not exactly sure of the date, as neither is her mother (considering that measurement of time is a male construct) but knows that it was winter because her birthday celebrations were always conducted by dancing in the freezing mud. As she considers Geminis to be incurably light minded, she identifies with the sign of Cancer, the Crab. This means that she is provided with a hard shell but is gentle and sensitive underneath it. Not that many people find that out. Most retreat after the initial nipping.
Childhood
She was rescued from the mud when she was five by her grandmother, the formidable Mrs Edna Chapman, her father's mother. After lessons in table manners, washing, the wearing of shoes and combing of hair, she was sent to school, where she showed an early facility with numbers and a unquenchable desire for order and neatness. Mrs Chapman, an unyielding, strict woman who believed that hugging children was pandering to sentimentality, sent her to a strict girl's secondary school, where she learned all she knows about evasion, concealement, violence and lying.
University, career & marriage
She went to university to become an accountant. Just as she was finishing her degree, Mrs Chapman died, and Corinna met her future husband, James Knott. He seemed at the time to be just what she wanted; reliable, solid, unbearably sophisticated. Corinna was honoured that he had chosen her. He discerned in Corinna the right amount of uncertainty which meant that he could mould her into the kind of wife he felt he deserved; one who would meet him at the door with a drink, wearing a blue gingham pinny and carrying his slippers.
Corinna obliged and became just what he wanted, while carrying on her own career. This state of affairs lasted until she woke up one morning and realized that if she excised James from her life, she would not have to spend her lunch hour looking for the right kind of truffles for his omelette. She ripped off the apron and decamped from his life and has never regretted it.
It is unwise to wear blue gingham in her presence.
Current life
After leaving James she also left accounting. With her sourdough mother of bread, her settlement and Grandma Chapman's estate, she bought the shop Earthly Delights in an eccentric building in Melbourne and settled down to make bread. She defiantly cleared all her debts in the first year, living mostly on bread and cheese.
Things have been exciting around Insula lately, with mysteries, and Goths, and Daniel Cohen, who is gradually getting past Corinna's claws and inside her shell. Her cats, Horatio the upstairs cat and Heckle and Jekyll, the Mouse Police, are well and removing rats from her bakery. Jason Wallace continues in her employ, inventing ever more fascinating muffins. Corinna is thirty seven and considers that being thirty eight in her present company is going to be a blast. She weighs one hundred kilos, and is never, ever, going to go on a diet...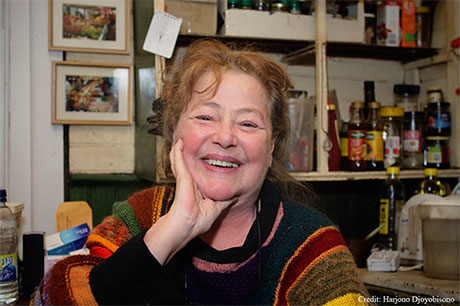 About Kerry Greenwood
Kerry Greenwood was born in the Melbourne suburb of Footscray and after wandering far and wide, she returned to live there. She has a degree in English and Law from Melbourne University and was admitted to the legal profession on the 1st April 1982, a day which she finds both soothing and significant.
Kerry has written numerous novels, a number of plays, including The Troubadours with Stephen D'Arcy, is an award-winning children's writer and has edited and contributed to several anthologies. In 1996 she published a book of essays on female murderers called Things She Loves: Why women Kill.
The Phryne Fisher series (pronounced Fry-knee, to rhyme with briny) began in 1989 with Cocaine Blues which was a great success. Kerry has written eighteen books in this series with no sign yet of Miss Fisher hanging up her pearl-handled pistol. Kerry says that as long as people want to read them, she can keep writing them. In 2012, Phryne became a television star in a series screened on ABC TV.
Kerry Greenwood has worked as a folk singer, factory hand, director, producer, translator, costume-maker, cook and is currently a solicitor. When she is not writing, she works as a locum solicitor for the Victorian Legal Aid. She is also the unpaid curator of seven thousand books, three cats (Attila, Belladonna and Ashe) and a computer called Apple (which squeaks). She embroiders very well but cannot knit. She has flown planes and leapt out of them (with a parachute) in an attempt to cure her fear of heights (she is now terrified of jumping out of planes but can climb ladders without fear). She can detect second-hand bookshops from blocks away and is often found within them.
For fun Kerry reads science fiction/fantasy and detective stories. She is not married, has no children and lives with a registered wizard. When she is not doing any of the above she stares blankly out of the window.